I will show you How to check your Junior Waec or BECE  Results online with the phone. You can also download your BECE 2023 timetable here. Do you know you can check your junior Waec or BECE results with your phone? With this post,
Download BECE 2023 Timetable
[download id="1780″]
IS BECE 2023 timetable OUT? How do I check my BECE results? How do I verify my Junior Waec (BECE) 2023 result online? These are the two questions right now on the junior waec Exam.
In this article, I shall teach you the basic steps to verify your Junior waec result online without issues.
Well back to the issue on how to check your junior waec or BECE results. Note that BECE stands for Basic Education Certificate Examinations popularly know as junior Waec here.
How to Check Junior Waec or BECE Results Online.
This is how to check your BECE Result using the BECE Result Checker
Firstly you need to buy a NECO Result Scratch Card at any NECO office or Cyber cafe for you to be able to view your result successfully.
Then Visit mynecoexams.com/results/
Select the BECE in the Exam Type Section
Select the exam year 2023
Scratch the result checking card and type in the PIN
Enter the Examination number in the space provided
Click the "Check my Result" button, then a pop-up page will display with your result.
Congratulations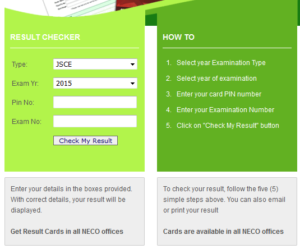 Remember: A candidate is considered to have passed the BECE if he/she has passes in six subjects including English and Mathematics.
To Print Your BECE or Junior WAEC Result.
After you might have gotten your result on the system or mobile phone, this are the procedure to go after on how to print the results,
Connect a printing machine to your system if you have one
Press Ctrl P on your keyboard, or click on print on your computer
Or If you're using mobile phone download the result in PDF and visit any nearest cyber cafe to print.
I wish you the very best in your examination!!!
Also Read: How to pass waec exam in one attempt
Wrapping up…
 Now that you have known How to check your Junior Waec or BECE  Results with phone,If you find this post useful, please do not fail to share on Facebook, Twitter, WhatsApp, etc. using the buttons below. It will definitely help someone out there.
Kindly join our facebook group for the latest waec news